We want to be the best shoe retailer for our customers. Our employees are our most important partners in achieving this goal. We want to equip them for above-average performance and to handle their jobs in an entrepreneurial, independent, results-oriented way. Among other things, that means paying above-average salaries, and offering regular continuing education, good pensions and attractive health insurance. For employees who find themselves in a personal emergency, unbureaucratic assistance is available through a relief fund.
Managers should set an example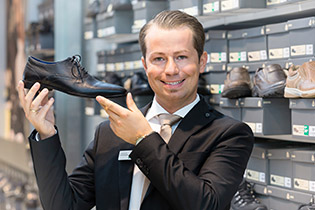 We expect our managers to lead by example. They should take every employee seriously as a human being with individual capabilities, needs and difficulties. In a balanced interplay of challenges and support, they should create room for their employees' development and self-initiative.
We believe that mutually pulling together brings pride in our achievements, strengthens camaraderie and increases work satisfaction. At the same time, this collegial interaction has positive effects on the company and its success. This, in turn, makes it possible to bring meaning to our mission.
More information