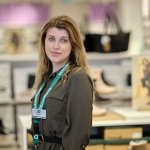 Wiktoria – Trainee Manager
"People make a team… and my team feels like my second family. If you want to work for a company where you receive excellent training, learn new skills and have the opportunity to progress, then Deichmann is the right place for you! I joined as a Sales Assistant and now I'm a Trainee Manager undertaking a structured training programme, which will provide me with the skills I need to one day manage my own store."
Cad – City Manager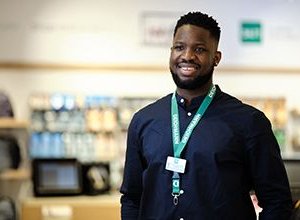 "I am a Graduate and started my career working for a large, well known fashion retailer before I joined this company. The skills and experience I have gained whilst I've been at Deichmann have been superb! The training is structured, challenging and rewarding.
As a Store Manager, I was invited to attend the District Manager Training Programme; which unlocks a choice of two dual career paths – District Manager or City Store Manager. I experienced both, but found my preference is to be a City Store Manager.
I currently manage our flagship store in Stratford, where my passion is to drive sales, deliver great levels of service to our customers, but ultimately to build and develop my team helping them to progress upwards…this gives me a real sense of pride. So far I have helped colleagues that were Sales Assistants progress up to Supervisor level, Supervisors to Store Managers and Store Managers to District Managers"
Tatiana – Store Manager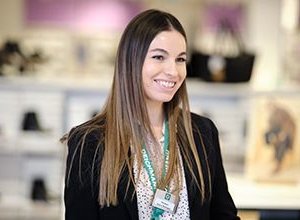 "Deichmann is a great company to work for…people feel valued and your hard work and successes are celebrated and recognised. I have been actively encouraged by all of my Managers to push myself to progress, and have been given excellent training and opportunities to develop my skills along the way.
Before I joined Deichmann, I worked as Sales Assistant for a large, discount retailer but found there was no progression, so I left and joined Deichmann. Since I started as Sales Assistant three years ago, I have obtained three promotions to become Store Manager at Milton Keynes.
I am ambitious and keen to continue my career progression so my next goal is to work towards becoming a District Manager!"
Adrian – Regional Manager
"Deichmann is a huge company but still retains a personal, family feel to it… one of the main reasons I have always loved working here.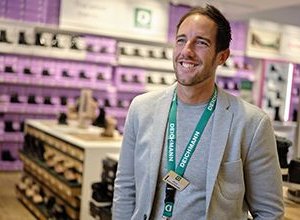 My background prior to Deichmann was in Sports Retail. I had progressed well, becoming a Store Manager at just 18 years old… but I am very ambitious and wanted to take my career even further, so I joined Deichmann as Store Manager in Taunton.
Not long after I joined I was invited to take part in the District Manager Training Programme. I was promoted to District Manager, gaining a second store to oversee. From there, I gradually expanded my district role to include a further 8 stores. Another promotion to a field based role managing 13 Stores followed, and I am now the Regional Manager for the South West Region, responsible for the performance of 35 stores.
We always look to promote colleagues from within, so spotting and nurturing future talent is another very rewarding aspect of my role. To be successful at Deichmann you need to be driven, adaptable and commercially aware. Being a solution minded individual that has the capability to multi task, prioritise workloads and cope with the demands of a very fast paced store environment is crucial."
Gemma – Supervisor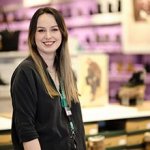 "Deichmann is all about people. It might sound cliché, but it is true! I have met the most amazing friends whilst working here, people I regularly socialise with outside of work. I am part of our New Store Opening Team, where I parachute into new stores for a couple of weeks, work alongside new colleagues and assist the Store Manager with mentoring and training. I have learned so much in my time with Deichmann, especially my merchandising and leadership skills. There is always so much to do, so you need to be driven, adaptable and a great team player."
Carmela – District Manager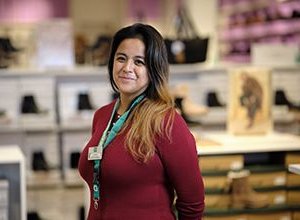 "I joined Deichmann in 2012, having worked in Sports Retail for 10 years. I had just returned from maternity leave and wanted to find a better work life balance. I initially joined as Store Manager of the Ilford branch and I've not looked back since!
I am now a District Manager responsible for 12 stores and in 2019, won the prestigious District Manager of The Year Award! What I really love the most about working for this company is training and developing my team…watching them grow, succeed and progress in their careers."