HR
We are HR – The "People" Team
We look after our most important asset, you. We support you as you grow and develop your career with Deichmann.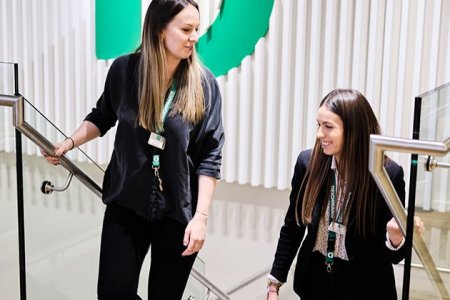 Our HR team believe in maximising the performance of the company through its people. We work closely with all departments to ensure we support the effective and efficient operation of our stores, and in particular the development and wellbeing of colleagues within them.
Our learning and development team design and deliver the programmes that help develop our employees and, at the same time, support our business plans for growth. We are particularly keen to spot and develop talent from within the business in order to deliver a robust succession plan to support our growth and future skills needs of the company.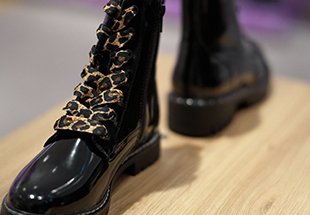 IT
Every day is different in the IT department at Deichmann, whether we are keeping the tills running at peak efficiency, supporting our colleagues in store, at head office and the warehouse, installing new hardware or writing software allowing us to be more proactive. We are the team that people come to for help, support or asking whether there is a better way to achieve their goals.
Merchandising
Controlling stock is critical to our success. With over 120 stores and the E-Shop to keep replenished, we are a dynamic team who optimise our resources to give them the best service so they can deliver the best customer experience. We collaborate across the business to support expansion and ensure the optimum volume and range of stock is available across the whole store portfolio. Customisation of a stock package for a new store? No problem, we create it – we know how to get the job done!
Retail Operations
MAKE A DIFFERENCE…
The Sale Coordination team's primary role is to connect our stores with the centre…and vice-versa. Above all it's about ensuring that our store, field based and head office colleagues are supported and have all of the tools needed in order to succeed.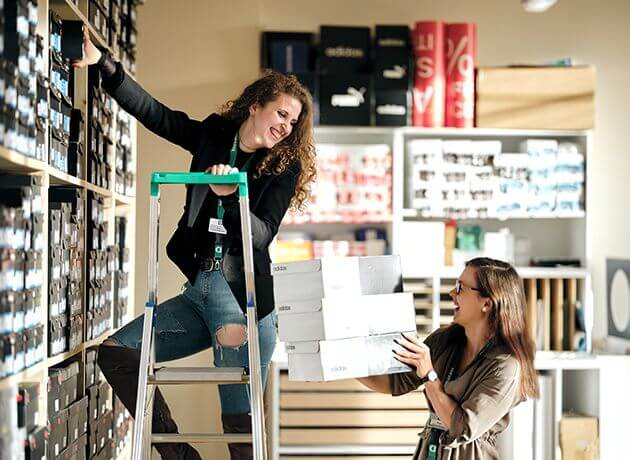 It's a big job, fast paced and involves working collaboratively across all aspects of the business. No two-days are ever the same, but we love it.
We also have responsibility for internal communication which demands accuracy, consistency and creativity… we play a pivotal role in making sure everyone knows what they have to do and when; so being highly organised, a great communicator and focussed on providing exceptional service is a must.
Our Retail Ops team will tell you that working for Deichmann can be fast and furious, but it's also a whole lot of fun.
If you thrive on being part of a team and love a challenge, then you'll love it here too.
Finance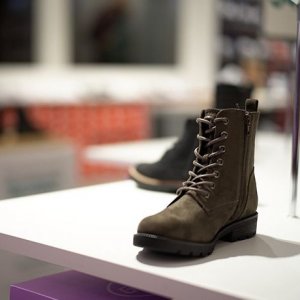 Here at Deichmann we are the team transforming Finance and Accounting!
Smarter ways of working, powered by the latest technology has helped to drive efficiencies, reduce costs and improve quality. Fusing automation and best practices has added value and given the best and brightest people the chance to shine.
Providing timely and essential information to reach key decision makers and influencers to optimise performance is essential in being one step ahead.
Trust is critical in Finance.
Property
We focus on two main aspects, firstly, working on new store acquisitions to enable future growth and secondly, estate management, ensuring our stores are able to operate to the best of their capacity.
Having both internal and external partners, communication is key. Regular dialogue with solicitors and consultants externally goes hand in hand with discussions and feedback to our internal customers in Retail Operations, Construction and Finance to ensure the smooth running of the department.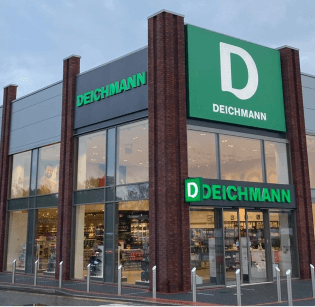 We are continually proud at the growth of our UK business and are always pleased to open in new locations, delivering our brand to new customers, especially in those locations that have been long term targets.
Construction
Here we manage the construction of new stores, the refurbishing of older ones and the ongoing maintenance needs of our existing portfolio. We support Property with securing new stores, work with Retail Operations and Finance when we rebuild older stores and always aim to have our stores trading, especially when receiving the unexpected and unplanned request from colleagues in store for help.
The role is diverse, varied, face paced and fun.
Buying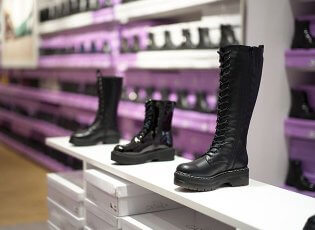 It all starts with the right product…
Delivering the exceptional value for money Deichmann customers are used to, takes careful planning, accurate predictions and commercial acumen. Our buying teams are constantly on the lookout for viable trends and products that deliver those trends in a unique package.
Working closely with our design and technical teams, a keen eye for detail and good communication skills are essential. Making decisions on ranges and pricing almost a year in advance of being available to our customers takes experience, creativity and above all a passion for product. Each buying area is therefore its own profit centre and teams are encouraged to explore new ideas to give us a competitive advantage in the market.
It all starts with the right product and culminates with satisfied customers that choose to come to Deichmann over and over again.
Marketing
Here at Deichmann we're passionate about fashion, quality and, above all, value-for-money. We've been the one-stop shoe shop for all the family for over 100 years and are the market leader in many countries across Europe.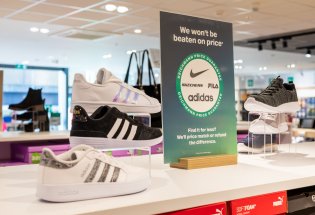 Our task is to make consumers aware of the great footwear offering we have and we do so by engaging with consumers across different touchpoints such as TV, fashion magazines, shopping centre events as well as social media platforms and digital marketing channels. We want consumers to know that Deichmann has something to offer for every occasion: whether that's the latest footwear trends to impress friends, smart shoes for work, trainers from Nike, adidas, Fila, Puma and Skechers or durable and high quality school shoes. Very simply put, we want to shift consumer awareness from Deichmann? to Deichmann!
So, we spend our day-to-day scratching our heads about new and exciting campaigns, dealing with external agencies who support us in reaching our goals and supporting our growing store portfolio in selling as many shoes as possible!
Being part of the Deichmann journey in the UK is equally exciting and challenging so hearing more and more people talk about the brand and loving our products is super rewarding and shows we're on the right track!
Customer Services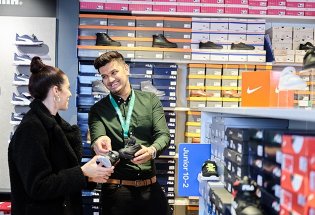 Making our customers happy is the core of everything we do! We support our customers with their purchases and enquiries, whichever channel this may be: answering calls in our busy call centre, providing product information on social media or tracking orders via email. Whenever our customers get in touch we will do our best to provide the best solution as quick as we can. Taking every enquiry seriously is important to us as we value our customers' opinions and feedback. Being the voice of Deichmann is as rewarding as it is challenging and a happy customer's feedback makes us smile every day!
Logistics
In Logistics, we work closely with our external partners to bring stock into the UK and move it out efficiently to all of our stores including our online store. We collaborate with our buying and merchandising teams to ensure that stores have all the stock they need to maximise sales, but it is important that we build relationships right across the company, including the stores, warehouse and other internal Deichmann departments to ensure a smooth movement of stock.