We value people and performance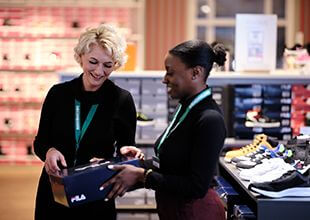 We're always looking for confident, friendly, passionate individuals, who will thrive in our fast paced retail setting. We believe in working hard for our customers, company, team, and for personal growth and achievement. As a company, we pride ourselves on the calibre of our people and the great customer service they deliver. In return for their motivation, dedication and commitment, we offer them the benefits of working for Europe's leading shoe retailer, including a positive work environment, friendly and supportive team culture, a competitive wage and opportunities for career progression.
Togetherness counts…
We respect our colleagues and in return we want our colleagues to feel appreciated and valued. Our culture is one of openness, fairness, teamwork and collaboration, within the context of the high performance, productivity driven environment in which we operate.

Success counts
We have always seen our colleagues as the makers of our success, so we recognise how important it is to support them with training and development and to provide opportunities for advancement. Only together can we ensure our future as a company, achieve growth and meet our corporate social responsibilities